How to prevent cell phones from being tracked?
A mobile phone makes many things in life easier. But besides the obvious advantages, there are also certain disadvantages.
With a standard cell phone it is quite easy to find out where it is at the moment.
A mobile phone tracking system reveals the current location. But how can you prevent for example a jealous partner from tracking your every movement?
3 Ways to Block Your Phone From Being Tracked
Turn on the "Airplane Mode" feature.
Shut the phone down completely and remove the battery. But: This is not possible with many phones.
The best option to protect your cell phone: Buy a Faraday Bag.
Tracking reveals your position
In most cases, it is certainly not dramatic if someone conducts a mobile phone tracking and finds out where the phone and its owner are. In delicate situations, however, everyone probably wants to move freely without the chance of getting located.
For example, imagine a situation where you want to buy a surprise birthday present for your partner or spouse and you do not want him or her to see the shops you are visiting.
Technically it is not the mobile phone that is tracked. Actually it is the SIM card. The reception and tracking are possible as soon as the SIM card and a battery are in the phone.
How to protect yourself from mobile phone tracking
If you want to prevent cell phones from being tracked, you have just a few options. The first solution is to remove the battery and SIM card from the phone. The moment you remove them, no one will be able to track your phone anymore.
However, there are many mobile phones currently on the market where you cannot remove the battery at all. One of these is for example the iPhone. A protection against unwanted espionage by removing the battery is therefore not possible. If this case or you simply do not want to remove the battery every time you need special equipment, which we present here.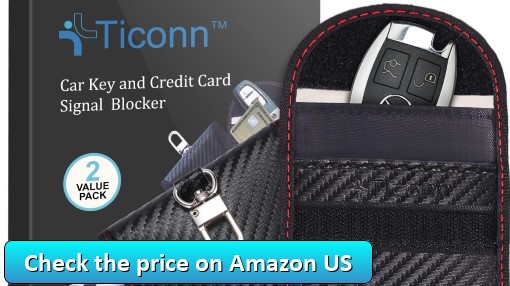 Faraday Bag for Key Fob (2 Pack), TICONN *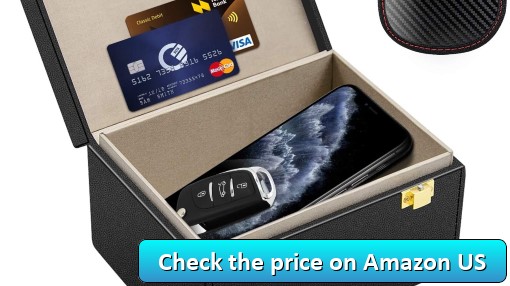 Kolaura Faraday Box for Car Keys with Car Security Key Pouch *
Protective bags prevent mobile phone tracking
So how can you protect yourself if you use a mobile phone where the battery cannot be removed? The solution is relatively simple: there are special protective bags (also called Faraday bags) in which you can keep your phone.
Once the mobile phone is in such a protective Faraday bag, a shielding effect occurs. This prevents the mobile phone from being located because it no longer establishes a connection to the reception towers.
These protective cases exist in various forms and designs. All of them have their own characteristics as well as advantages and disadvantages.
To give you the opportunity to get detailed information about the different models available on the market, we have included a list of the current Amazon bestsellers against mobile phone tracking.
Have a look at the different models and maybe read the customer reviews. Amazon has such a high number of customers that it is likely that the bestsellers there are actually up to the latest standards and requirements.
You should think about getting such a Faraday bag, considering that it also prevents all other tracking methods from working like the GPS function of your phone.
Further the protective case prevents the use of tracking apps like mSpy®. Such apps for locating, listening to and the monitoring of e-mails, WhatsApp or SMS are widespread on the market. They pose a danger of unwanted monitoring, whereby mSpy® is only one of many providers.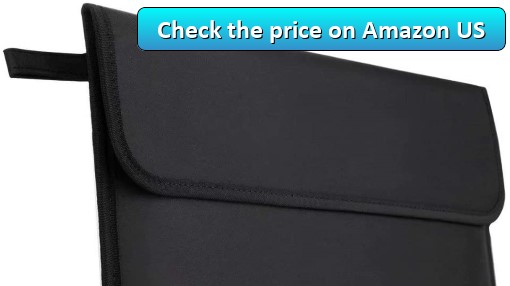 MONOJOY Faraday Bags for 13 Inch Laptop and Tablet *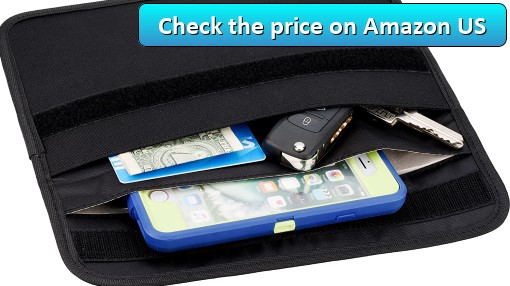 Wisdompro RFID Signal Blocking Bag *
Mobile phone tracking for legal prosecution
Mobile phone tracking has become known to a broad public through repeated publications in the press about how often federal authorities use mobile phone tracking to locate a criminal or a suspect. This technique is also referred to as a silent SMS.
The silent SMS works more or less like a traditional SMS, but unlike a normal SMS, it has the effect of not being displayed on the recipient's device.
Although the SMS is delivered, it only serves to extract the data from the receiving device in order to reveal its location. Therefore it is understandable that spectacular manhunts could be initiated with the help of tracking a cell phone.
You may recall that some time ago two felons broke out of a prison. These criminals had stolen a cell phone.
By means of mobile phone tracking, the authorities were able to determine the area in which the user of the mobile phone was located. Thus it was possible to locate one of the escaped prisoners, who was arrested some time later without resistance.
Now we are not talking on this site about serious criminals who are on the run and therefore want to shield their mobile phones. However some situations require discretion and then it would be very bad if your phone could be easily located.
Advantage of the shielding bag: Prevent eavesdropping
But a Faraday bag does not only offer protection against cell phone tracking. An additional advantage of these special mobile phone cases is that their use also makes it impossible to eavesdrop on a mobile phone.
Many people do not know that a cell phone can be used like a listening device. In this situation, perpetrators access the mobile phone from outside and activate the camera or microphone. This allows the eavesdroppers to actually hear what is being said in the vicinity of the mobile phone.
It is possible for the perpetrator, through simple procedures, not only to listen to every phone call that is made via the mobile phone, but also to listen to all conversations in the room in which the mobile phone is currently located.
And since most cell phones now have a camera and a connection to the internet, it is also possible to see live images without greater problems. Off course the mobile phone cases we just introduced also protect you from this scenario.